Guitar Center en GitaarNet presenteren:

RIFFCONTEST met als jury guitarmaster Paul Gilbert!
- - - - D E U I T S L A G - - - -
De uitslag van de RIFFCONTEST is bekend! 'Jury voorzitter' Paul Gilbert maakt aan alle spanning een eind en maakt de drie winnaars bekend!


I have been given the job of listening to some guitarsolos, choosing my 3 favorites, and writing myopinions of them. So here we go.

My favorites are:
"Fuz_Meets_the_herd" by Bosch
"Chase" by Joris Bos
"Funky fingers" by Boudewijn
Bosch gets right to the point and lays down someserious rock-fusion licks in the first few seconds.His tone reminds me of John Scofield, but with somemetal influences in the distorted guitar sound. Ireally like his mix of picking and legato sounds, andhis choice of notes is really interesting. The secondhalf of the solo is more Steve Vai-ish with some fastruns and Vai-ish phrases. And then, having said whathe needed to say, Bosch quits while he's ahead andlet's the bass solo take it to the finish.
MP3: Fuz_meets_the_Herd - Bosch
Joris Bos has the best and LOUDEST guitar sound of anyof these solos. I also love his vibrato. And that'sIMPORTANT. If I needed another guitarist for a touringband, I'll probably pick Joris because of the clarityand power of his playing and tone and his awesomevibrato. He's not as flashy as the other guys, but I love thesound of his fingers.
MP3: Chase - JorisBos
Boudewijn starts off with some safe but good funkrhythm, then adds a melody with a kind of thinauto-wah sound. I didn't have great expectations afterthis, but wait... then a killer metal solo comes outof nowhere! Great tone, phrasing, vibrato, super cleanlicks. Wow! Uh-oh, then it's back to the duck-callsound. then a fantastic fusion section and somemasterful licks worked out to go with the bass guitarsolo. This guy plays really well, he just needs tostick the good stuff at the beginning of the song toget the listener's attention.
MP3: Funky fingers - Boudewijn
So who do I choose to win the Pod?
I'm going to go with Bosch. He put his good stuff atthe beginning and got my attention with just onelisten. Joris and Boudewijn are fantastic guitaristsas well, and the more I listened to them, the moredepth and musicality I found. But Bosch hooked meimmediately, so I have to go with my first impression.
I hope all you guys keep playing guitar and have lotsof fun and success!
Thank you,
Paul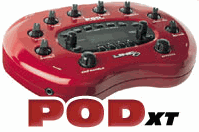 POD XT
Wouter Bosch, gefeliciteerd met je nieuwe aanwinst! De POD XT is ter beschikking gesteld door Guitar Center in Wierden. Joris Bos en Boudewijn winnen de tweede resp. derde prijs, te weten een verrassingspakket met de nieuwste CD van Paul Gilbert (Acoustic samurai), set Elixir snaren, GitaarNet T-shirt en Line 6 T-shirt.
Benieuwd naar de andere deelnemers? Hier de 10 nummers (MP3's) die uitgekozen waren door de forum-jury:
1. Backingtrack (original)
2. Riffcontest - Frank Schiphorst
3. Chase - JorisBos
4. Leaves are falling - Stratman 70
5. Motherfunker -Shaggy
6. Gert-Jan - Gert-Jan
7. Fuz_meets_the_Herd - Bosch
8. Funky fingers - Boudewijn
9. Cookiemonster - Charlie45
10. Partytime - Bouke
11. Only In Your Head-Segers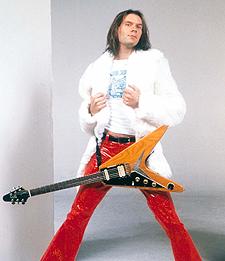 Paul Gilbert
Paul Gilbert is onder gitaristen vooral bekend om zijn onvoorstelbare 'chops' en techniek. Hij speelde in de bands Racer X en Mr. Big, maar concentreert zich tegenwoordig meer op zijn solowerk.
Zie ook: www.paulgilbert.com
Klik hier voor een indruk van zijn carriere.
Klik hier voor een eerder interview met hem op GitaarNet over Razer X.
---
---